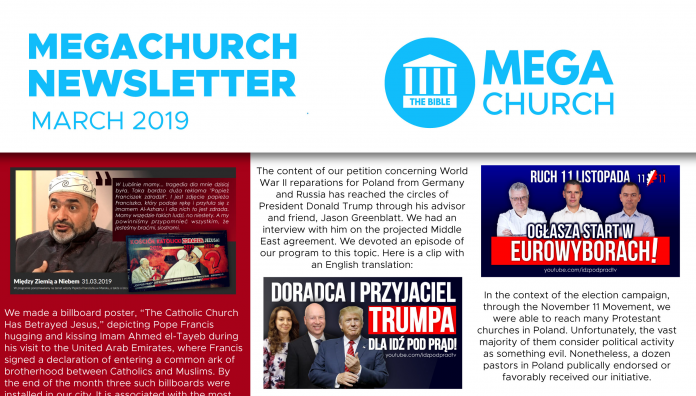 We made a billboard poster, "The Catholic Church Has Betrayed Jesus," depicting Pope Francis hugging and kissing Imam Ahmed el-Tayeb during his visit to the United Arab Emirates, where Francis signed a declaration of entering a common ark of brotherhood between Catholics and Muslims. By the end of the month three such billboards were installed in our city. It is associated with the most recent issue of the Go Against the Tide magazine with a similar cover. Surprisingly, we have not been attacked by any Catholic priest or bishop. However, an imam from Lublin, Nedal Abu Tabaq, was invited to a Catholic program on the largest government-owned TV, where he came to Pope Francis' defense and identified us as 'evil people' who do not want peace and brotherhood between religions. Typically for Catholic, government media, we have not been granted a right to defend ourselves in response to the imam's attack.
The content of our petition concerning World War II reparations for Poland from Germany and Russia has reached the circles of President Donald Trump through his advisor and friend, Jason Greenblatt. We had an interview with him on the projected Middle East agreement. We devoted an episode of our program to this topic. Here is a clip with an English translation.
In the context of the election campaign, through the November 11 Movement, we were able to reach many Protestant churches in Poland. Unfortunately, the vast majority of them consider political activity as something evil. Nonetheless, a dozen pastors in Poland publically endorsed or favorably received our initiative.
The collaboration with other Christian churches is strengthened by our promotion of the movie, "Genesis: Paradise Lost." In March, screenings took place in several additional churches.
A young generation of teenage journalists have joined our TV team. The first program they hosted by themselves concerned the Youth Climate Strike.
We aired the first episode of a short film mini-series, "Important Issues." Our editorial team was expanded by another married couple specializing in film production.
Representatives of our church and editorial team participated in a conference of the European Coalition for Israel in London. We interviewed Andrew Tucker and Ruth Issac of this organization.
We hosted a live program featuring professor Duke Pesta of the Freedom Project Academy. We talked about the danger of the LGBT propaganda in schools. In Poland this is a relatively new issue. The authorities in the capital city of Warsaw adopted the WHO standards concerning sexualizing children as young as 4.
This month, we launched a portal for women, "A Freed Woman," intended to promote conservative values vis-à-vis the feminist propaganda. Here is a promotional clip, including its English version.
We have translated into English the second sermon by Pastor Paweł Chojecki about the communist impact on Christian churches, titled "The Communists Want to Subvert You!": https://youtu.be/d9fccewM548
Prayer Requests:
– For a spiritual fruit of the April conference of Bible Groups, during which a Christian Jew, professor Andreas Stutz of the Israel College of the Bible, will be the main speaker. The planned topic is "Messianic Prophecies of the Bible."
– We ask you to thank God for the enormous blessings manifested by our viewers' support. In March, for another month in a row a 1000 people supported us financially. We are in the process of arranging a new studio for our TV, and we are planning to expand the auditorium at our church to seat 200 people. Pray for God's blessings over these projects!