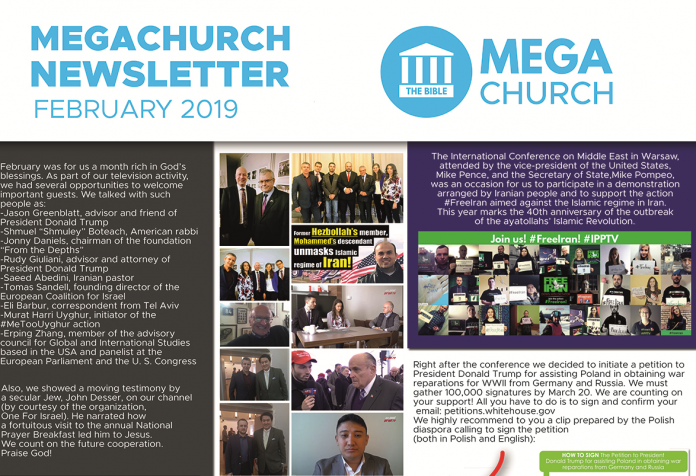 MEGACHURCH NEWSLETTER – FEBRUARY 2019
February was for us a month rich in God's blessings. As part of our television activity, we had several opportunities to welcome important guests. We talked with such people as:
– Jason Greenblatt, advisor and friend of President Donald Trump
– Shmuel "Shmuley" Boteach, American rabbi
– Jonny Daniels, chairman of the foundation "From the Depths"
– Rudy Giuliani, advisor and attorney of President Donald Trump
– Saeed Abedini, Iranian pastor
– Tomas Sandell, founding director of the European Coalition for Israel
– Eli Barbur, correspondent from Tel Aviv
– Murat Harri Uyghur, initiator of the #MeTooUyghur action
– Erping Zhang, member of the advisory council for Global and International Studies based in the USA and panelist at the European Parliament and the U. S. Congress
Also, we showed a moving testimony by a secular Jew, John Desser, on our channel (by courtesy of the organization, One For Israel). He narrated how a fortuitous visit to the annual National Prayer Breakfast led him to Jesus. We count on the future cooperation. Praise God!
The International Conference on Middle East in Warsaw, attended by the vice-president of the United States, Mike Pence, and the Secretary of State, Mike Pompeo, was an occasion for us to participate in a demonstration arranged by Iranian people and to support the action #FreeIran aimed against the Islamic regime in Iran. This year marks the 40th anniversary of the outbreak of the ayatollahs' Islamic Revolution.
Right after the conference we decided to initiate a petition to President Donald Trump for assisting Poland in obtaining war reparations for WWII from Germany and Russia. We must gather 100,000 signatures by March 20. We are counting on your support! All you have to do is to sign and confirm your email: https://petitions.whitehouse.gov/petition/petition-president-donald-trump-assisting-poland-obtaining-war-reparations-germany-and-russia
We highly recommend to you a clip prepared by the Polish diaspora calling to sign the petition (both in Polish and English): https://youtu.be/0wh7CCkDLGc
On February 1, we celebrated the third anniversary of the Go Against the Tide Live TV. God blessed us greatly with increase in the number of viewers who support our TV with recurring donations. Last year, we averaged about 700 such viewers a month. Both months this year, we had over 1000 of them! On the account of the three years of live broadcast we received greetings from all over the world: from the USA – from Arthur Thompson, CEO of a major conservative organization, the John Birch Society, from Christian Gomez, a journalist of the New American Magazine, and from Alex Newman, our regular correspondent; from Taiwan – from Dennis Peng, a journalist of the Formosa TV, and from Hanna Shen, our correspondent; from Israel – from Andreas Stutz, a professor at a Christian college; from Hungary, Austria, and Canada, as well as from our Polish athletes – from Małgorzata Zabrocka, world champion and Europe champion in traditional karate, and from Marcelina Witek, Poland champion in javelin throw. We also received greetings from Piotr Szkopiak, the director and maker of the movie, "The Last Witness," who at the same time thanked us for the promotion of his film. We thank God and everyone supporting the Go Against the Tide TV on a daily basis!
In the recent months we have noted an increased number of death wishes directed toward us on the Internet. So far, the police had been indifferent to this problem, but currently they have initiated certain actions. We are requesting prayers that we would not cease in our endeavor to tell the truth boldly, trusting in God's protection.
Another former Catholic priest who believed in Jesus thanks to our testimony came forward. There appear more and more brothers from other protestant churches, who want to cooperate with us in such areas as promotion of the movie, "Genesis: Paradise Lost" (from director Ralph Strean). Pray that these efforts would gain momentum!
This month, we organized the first camp for youth and children within the Megachurch project. We are requesting prayers for us to be able to bring another young generation into God's work!
Additional prayer request:
– For wisdom of Christians involved in the anticommunist biblical party, the November 11 Movement, concerning running in the coming election.