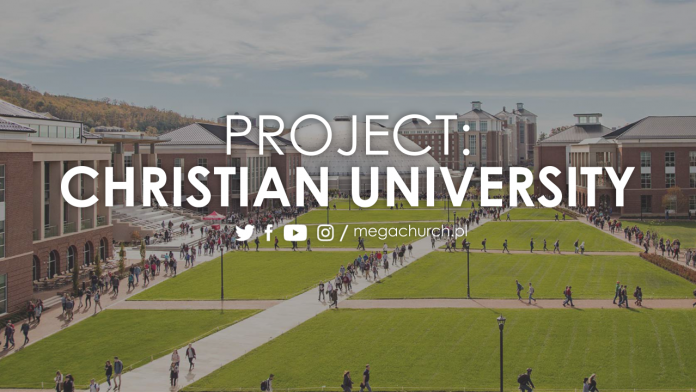 Lublin, 13.09.2019
Dear Brothers and Sisters in Christ,
I'm writing to you about a Christian university because establishing one is necessary for effective and lasting evangelization of Poland. Such a great task exceeds abilities of one congregation or denomination. Wise and harmonious commitment of all Polish Christians is necessary. Though we only make up a small portion of the society, well organized and backed by the power of Jesus Christ we will certainly carry this job out.
The dream of a Christian university was born as early as in the 16th century, in the minds of the first generation of Christians of the Polish Reformation. Unfortunately, they were able to establish only a Christian high school, and John à Lasco, the main proponent of a Protestant university, did not live to see his worthy successors. Today, a number of Biblical schools function in Poland, but we do not have a Protestant higher education institution training students in all areas. If we want to reach the entire nation with the gospel and change our country into a Christian republic, we urgently need such a university. If we fail to establish it our children and grandchildren will need to seek Christian education abroad, but many will be unable to afford it, or they will have to study at Polish secularized universities.
Such studies may lead many to losing their faith. Moreover, the knowledge and standards acquired at those universities would be far from what the Bible presents to us.
Why does the Against the Tide community take upon itself the task of creating the first Christian university in Poland's history? We have been involved in educating Christians for almost 30 years and in building a Christian TV for almost 10. God has blessed us enormously. In February of 2016, with just a handful of believers we launched our project of broadcasting live daily socio-political commentaries, in which we make connection between the events taking place at home and in the world with Biblical truths and prophecies.
The ripple effect surprised each of us and still keeps surprising! During the first year, over 2000 people requested copies of the New Testament! Many have turned to Jesus and asked to be baptized. Also, a few dozens of baptisms took place in Great Britain, the United States, and Canada. The vast majority of people who came to us have backgrounds in the unbelieving world, rather than in existing congregations. We have organized them into Bible groups and daughter-churches, which each week gather hundreds of people in the entire Poland and abroad.
The highlight of these acts of God was the summer camp for Bible groups, which took place this year in Masuria with 200 people participating!
Our plans in the near future include: establishing a Christian high school, Bible school, and – on this foundation – a Christian university. Already this year, we are beginning our pilot course at the Bible school, entitled "Church History." God has also blessed us financially in a wonderful way. We are not taking advantage of any monetary aid by the state or Western churches, yet over 1000 people each month donate in excess of 80,000 PLN for the operation of the Against the Tide TV.
Last month, we announced the beginning of a fundraiser to fund the university. In response, we received over 110,000 PLN. Praise God!
I am not writing about this to boast or elevate myself, but to show tangible evidence of God's action and blessings. In the past, Polish Christians made many mistakes and missed wonderful God-given opportunities.
In the 16th century, having all the trump cards, including the majority in the Sejm (parliament), they found themselves conquered by their foolishness, sin, and the Catholic Counter-Reformation.
Today, we are faced with a question whether we will manage to draw conclusions from the failures of the Reformation in Poland. Other nations succeeded in overcoming the problems and laid lasting foundations for evangelization and Christian organization of the state. In our times too, similar projects succeeded in other places around the world. The largest Christian university in the world, Liberty University, that was built within one generation, can be shown as an example. American Christians recognized God's action in the ministry of Pastor Jerry Falwell, and got onboard with his project. In 1971, they started with only 154 students and provisional buildings.
Today, over 110,000 Christians are enrolled at this university, and both the president and the vice-president of the United States of America are invited as guests.
How can you participate in the CHRISTIAN UNIVERSITY project?
1.Pray for us on a regular basis so that we will not lose track of God's will and give into temptations or intimidations.
2. Inform others about our action and encourage them to do the same.
3. Make your contribution to the financial support for the university. (Kod BIC (Swift): ALBPPLPW IBAN: PL 18 2490 0005 0000 4600 2027 1550)
4. If you are talented or have scholarly background in an area that could be useful in creating the university, and God put it in your heart, contact us at kontakt@megakosciol.pl
This project is intended for the entire Body of Christ in Poland; therefore, all the members are necessary. You, too, may play a role in this historical enterprise. So help us God!
Best regards,
Pastor Paweł Chojecki
New Covenant Church of Lublin
Against the Tide TV